Intheblind Field Golden Retrievers
Intheblind Golden Retrievers has pure, dark red, USA imported field bred golden retrievers from some of the most proven field trial lines.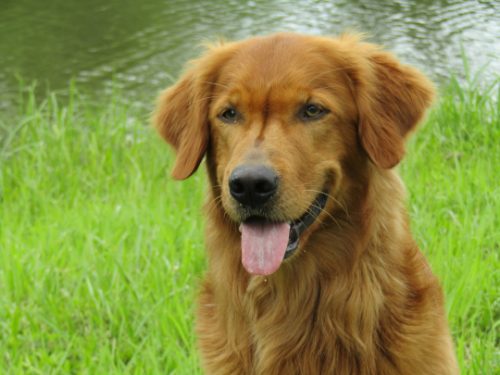 Field golden retrievers are highly intelligent golden retrievers that make the most wonderful family pets and companions.  They are loyal and affectionate with people, along with being easy to train.  They make wonderful house pets and family companions.  Field goldens are trustworthy dogs with kids and other pets.
I am a current member of Dogs Victoria and adhere to their Code of Ethics.  All of my brood stock are ANKC registered, hip and elbow scored, along with eye, heart and DNA tested.
Field golden retrievers are utilised internationally in functional roles, including as service and assistance dogs, border patrol dogs for militaries, along with search and rescue and detector dogs roles for government agencies.  Even with the intelligence to perform such functional roles, field goldens make beautiful family companions and house dogs.  My goldens are more than happy spending time inside, sleeping on a couch or dog bed.
To the best of my knowledge, I am the first field golden retriever breeder in Australia to breed a pure, fully imported field line of golden retriever.  I believe from a functional (working) perspective, my goldens are as well bred as any in this country.  My dogs are not bred to a "show" standard and hence are not as heavily boned, with less size and coat.
The golden retriever was developed in Scotland in the 1860s by Lord Tweedmouth as a gundog.  The pre-requisites for a good gun dog including stability under pressure, namely gunfire, a gentle mouth, in order not to damage game, along with a will to please and ability to swim in freezing waters.  These attributes are tested internationally including in retrieving trials in Australia, along with field trials in the UK, Scotland and Europe.  Dogs that achieve championship certification in such trials have shown ability reflective of a quality gundog.
My original field golden was imported in 2010, with further genetic material imported to continue a pure USA field line of dogs.  My first field golden was born in 2008 and is a daughter of AFC Emberain Rugby, and a granddaughter of AFC Rosehill's Mr Speaker.  I have retained females (Red and Rose) from this breeding born in 2015 from Blondie and Brassfires Give Us a Chance (Trooper).  Trooper was titled as an outstanding sire for the quality progeny he produced in the USA.  Trooper also have descendants used by the Swedish military.
I've continued my bloodlines from this original mating in 2015 with the importation of genetic material from outstanding dogs in the USA and New Zealand.