Welcome to Our New site
Intheblind Field Golden Retrievers
Intheblind Golden Retrievers has pure USA imported field bred golden retrievers from some of the most proven hunting and field trial lines.  My original field golden was imported in 2010, with further genetic material imported to continue a pure USA field line of dogs.  I have sourced further genetics to import from proven working lines with good health clearances, to improve my dogs.  I look for specific attributes  including sound temperament, working ability, good health and longevity.  Field goldens are the most wonderful of dog.  Both as a family pet, or as a working dog.  Quality field goldens are always going to be happiest working, either hunting ducks, or doing obedience.  Most dogs are happy being around people, and field goldens are no different.
Field golden retrievers are utilised internationally in functional roles, including as service and assistance dogs, border patrol dogs for militaries, along with search and rescue and detector dogs roles for government agencies.
I am a current member of Dogs Victoria and adhere to their Code of Ethics.  All of my field golden retrievers are ANKC registered.
My goldens are calm inside, intelligent, easy to train, and make the best of family pets.  They also will excel in nearly all dog sports including retrieving and obedience.
The photos provided are of Brassfires Yet Another Chance, who sired healthy pups for my kennel this year.  Chase's youngest pups in Australia are now 8 months of age.  From all reports from the owners,  these pups are exceptionally intelligent, and generally calm inside.  Chase's pups in the USA are already hunt test titled.  Chase is proving to sire pups of good size for field goldens, with his male pups of 30kg (66lb) weight, good bone, affectionate and easy to train.  Chase has pups that are not overly hyperactive,
There are very few field golden retrievers at public stud in Australia.  The gene pool is certainly larger in the UK, and USA.
Due to this, it is likely in the near future litters of pups will be bred from imported semen.  There are benefits and drawbacks to breeding in this manner.
I will have dark, pure American field golden retriever puppies in the future.  All of my brood stock are hip, elbow, heart, eye and DNA tested.  All ANKC breeders of retrievers usually adhere to this standard.  This is the professional standard of which to judge a breeder, amongst other things to consider.
Please refer to our puppy inquiry page to register your interest.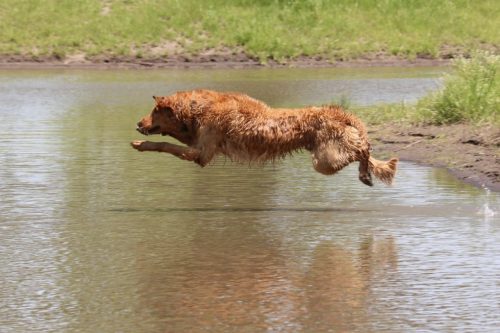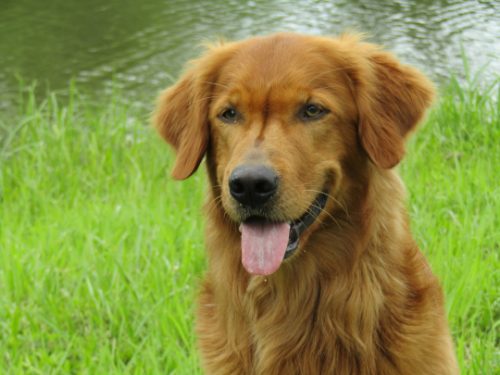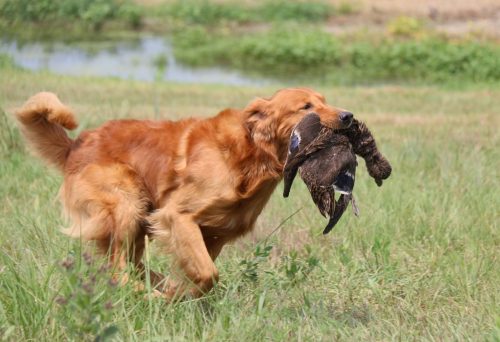 Photos of the American sire of our past litters – "Chase".
Chase is UDX titled, Agility Dog Hall of Fame (ADHF) amongst other titles.
The field Golden Retriever is certainly one of the most stylish and talented gundog breeds.  These dogs are highly intelligent, with a genuine desire to please their owners.  Field goldens often have higher energy levels than show goldens.  They often like to play more, and thrive on being trained.  Field goldens are usually calm inside the house and make devoted family companions.
Field golden retrievers are pure golden retrievers, bred primarily for their hunting ability, rather than a particular coat color or coat length,.  Field goldens more closely resemble the original golden retriever developed by Lord Tweedmouth in Scotland in the 1860s.  In all reality, it is the show fraternity that has created the lighter, more calm, more heavily boned golden retriever typical in Australia.  These dogs are wonderful family pets, however some would say they are not of similar function or type as these original dogs bred in Scotland.